Most of the respondents to our Styles Survey report using Custom Styles to format proposals. But even among avid Custom Style users,  the proper use of Custom Heading Styles is debated.  Here is a look at the issues.
The Secret Powers of Built-in Heading Styles
Microsoft Word uses Built-in Headings Styles to support many features important to proposal writers.  Here are a few:
Outlining
Navigation Pane
Cross References
Table of Contents
Should you base your Custom Heading Styles on Built-in Styles?
Basing your Custom Heading Styles on Word's Built-in Heading Styles preserves these powerful features.  But from the previous post we know that basing your styles on built-in styles means that the target document can affect the appearance of your inserted proposal content.  To prevent that we recommended selecting '(no style)' as the basis of your Custom Styles.
But if we fail to base our Custom Heading Styles on Microsoft Built-in Heading Styles,  we lose the important advantages listed above.
In many cases you can use alternative methods to achieve the same results as the built-in features.  One example we will look at is the common issue of Custom Table of Contents.
Creating Custom Heading Styles based on 'No Style'
Here is the definition of my Custom Heading 1 Style.  I have set it to red and bold to maximize the contrast.  Note that it is based on '(no style)' and the 'style to follow' is set to be my Custom Style for regular text.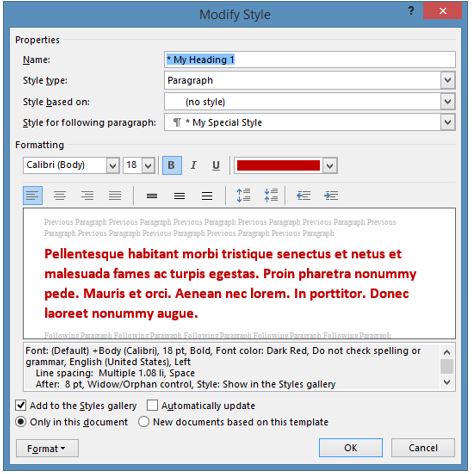 Here is an example of content formatted with my Custom Styles: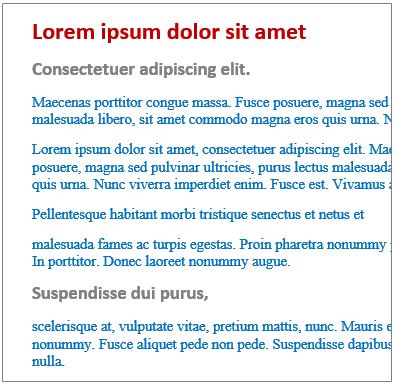 Creating Custom Table of Contents
If I were using Word's Built-in Heading Styles or Custom Styles based on Built-in Heading Styles, I could simply select one of the automatic Table of Content styles to generate a Table of Contents for my document.
But, because my Custom Heading Styles are independent of the Built-in Styles,  I need to create a Custom Table of Contents.  To do this I select the 'Table of Contents' dropdown on the 'References Tab'.  Scroll to the bottom of the dropdown and click 'Custom Table of Contents…"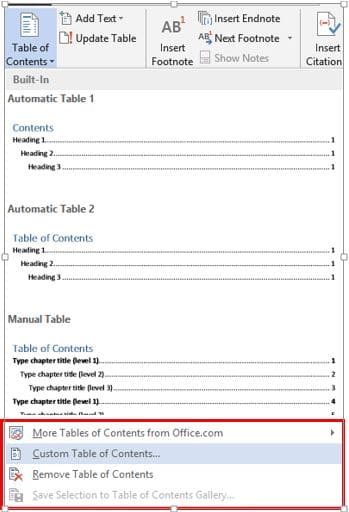 To generate a Table of Contents, Microsoft Word maps the levels of the Table of Contents to Styles contained in the document.  Word automatically maps Heading 1 to the top level, Heading 2 to the second level, and so on.
To change this automatic mapping, click on the 'Options' button.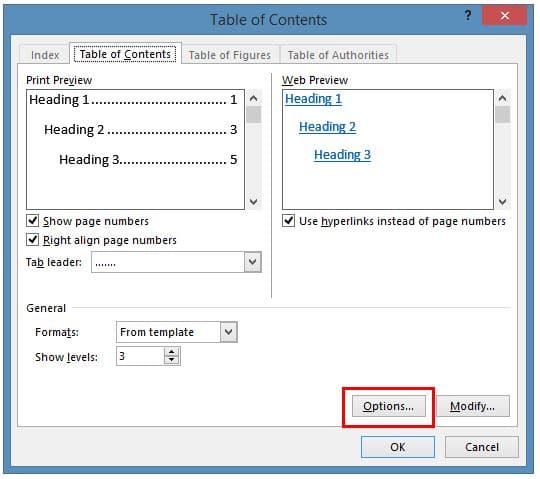 On this screen we are presented with the ability to change Word's automatic default mapping.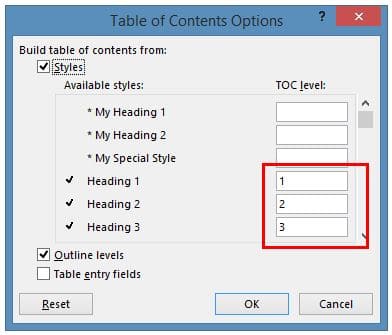 I can easily remove the TOC level numbers from the Built-in Headings and enter them for my Custom Heading Styles instead: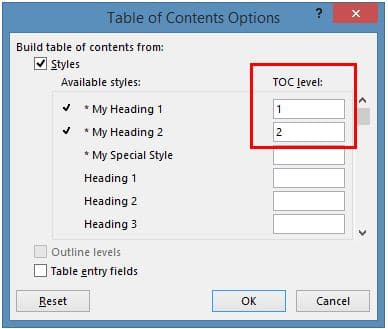 The resulting Table of Contents now follows my Custom Heading Styles:


Which type of Custom Heading Style is Best?
If your reusable content makes use of Heading Styles you may want to create independent Heading Styles (based on 'no style') to maintain control over the appearance of your content when inserting into a document.  If you are content to have one single Heading Style in a document, Custom Heading Styles may not be as important to you.
Before making the decision on whether to use Custom Heading Styles or how to define them,  just be sure to consider what other aspects of your proposal document will be affected. There is no right or wrong answer here.  As always, consistency is the key.
In the next post we will look at how to trouble shoot problems when applying Custom Styles.