Building the Business Case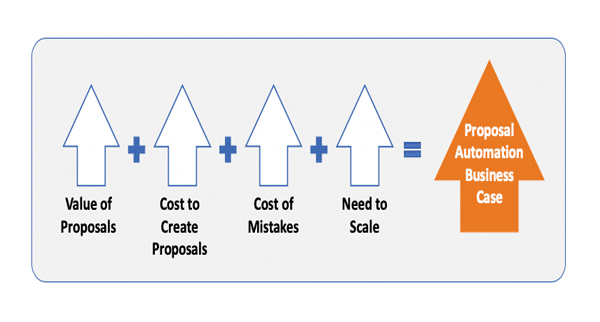 Proposal automation software doesn't make sense for every business. For example, organizations with less complex sales cycles, or organizations that create few proposals, or organizations that create proposals with no repetitive content or commonly used answers will benefit less from proposal automation. But proposal automation solutions should be carefully considered by any businesses regularly challenged to stand out in a complex buying cycle that involves proposal or RFP response.
But sometimes, our need to analyze, quantify expected returns, and prioritize investment can create an environment where it is difficult to decide for or against a proposal automation software investment. In fact, we estimate that as many as 20% of the organizations that we speak with are in this exact analysis paralysis. For these customers, we recommend a more common-sense approach. Like this:
1.
Consider the importance of proposals. How valuable are they to your organization?
If they are highly valuable, the costs of mistakes inherent with 'copy and paste' proposals will likely justify this investment.
2.
How much money would be saved if proposals cost half as much to create?
People are the greatest investment for almost every organization. If it's reasonable that proposal automation will free up 50% of the time currently spent making a proposal, this increased productivity will undoubtedly justify investing in proposal automation.
3.
What impact can you anticipate on team morale, burnout, and turnover in having a solution that helps proposal writers do a better job with greater work/life balance?
This is just not that complicated. Disgruntled and/or overworked employees turnover more frequently. This is woefully inefficient and costly for any business. If it's easy to visualize proposal software reducing turnover of proposal personnel, buy it immediately!
4.
And, finally, in considering the strengths and weaknesses of your proposals today, is it reasonable to think that you would win one more opportunity if the quality and consistency of every proposal was improved? Two more wins? Ten more wins?
This becomes a basic math problem. If we can reasonably expect to win one, or two, or ten more deals, the profits from these opportunities will clearly make it easy to justify a purchase of proposal software.
About Expedience Software
At Expedience Software, our core mission as a company is help organizations enhance, automate, and evolve their proposals and proposal creation processes. We are proposal people and have assisted thousands of customers across many industries solve the challenges associated with these critical business development documents to help them win more business. We have incorporated our 20+ years of thought leadership and best practices into what we believe is the easiest to use and most effective proposal automation software on the market today.
We would love to help your organization better determine the impact and results you should expect from investing in proposal automation software. We can also help you understand where our software best fits and how we approach solving the problems discussed in this document.