Responding to a Request for Proposal (RFP) can be critical to ongoing business success. Although RFPs are an intricate part of helping companies to connect with new clients, secure deals, and grow the sales pipeline, responses to RFPs are generally quite complicated.
What is an RFP and How does RFP Software Help?
An RFP is an organization's document to announce a new project opportunity to interested parties through bidding. RFP software helps companies automate the process. Requests for proposals are time-sensitive and subject to change. An RFP document lists all of the requirements and needs of a project.
Expedience offers RFP response software to help companies succeed at every step of the process.
Advantages of Expedience RFP Automation Software
RFP software gives the user real-time visibility into the response process – with an end to chasing teammates or combing through old documents for the most up-to-date information needed to complete the response. With Expedience, customers enjoy real-time collaboration and the ability to assign tasks and set approvals to achieve fully branded and formatted responses with curated and approved content from the content library. This ensures every RFP response will be delivered with the most up-to-date error-free content in much less time than would otherwise take using a manual process.
The advantages of Expedience RFP response software include the following:
Native to MS Word, Expedience Software is the easiest to learn and use
No license is required for subject experts & contributors!
Full support of MS Teams, OneDrive, SharePoint, email, & other best-in-class collaboration tools
Search and insert content that best matches your question directly into your proposal
Expedience offers software training for our RFP software users, so they know how to get the most out of our platform.
This article will answer your questions about what RFP software training is, why it matters, and how Expedience can help you get the most out of it.
What is RFP training?
Expedience RFP training consists of a series of workshops on the use of the software. These workshops provide a methodology to get the most out of RFP software by learning how to create RFP responses and proposals that win business.
Our Expedience Services team works with clients to ensure that content in the content library is 'proposal ready .'They will review current templates, styles, and processes and use this information to design the layout of the Microsoft Word ribbons and lock down branding and formatting requirements. Next, the team will assist in organizing content, applying styles and placeholders to content records, and uploading records to the content library.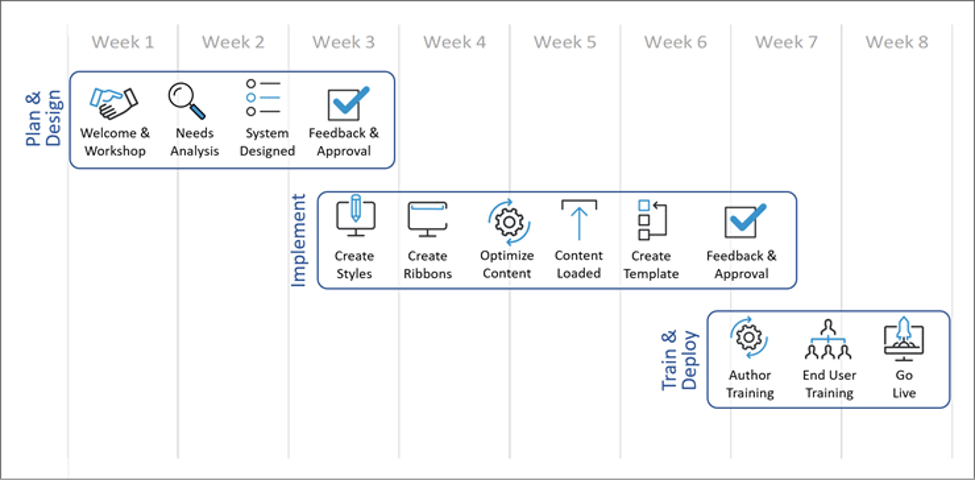 Train & Deploy
The final phase of the implementation is Train & Deploy. This is a complete series of training sessions – tailored to content ribbons and implementation. At the end of this phase, Expedience is live and productive. Sales and Proposal Teams will use the software to create the subsequent proposals. At this phase, administrators are 100% self-sufficient.
RFP software training is a great way to learn how to use the software effectively, especially if you're new to RFPs. It will also help you streamline your processes and make project management more efficient.
Training is the most effective way to learn how to use RFP software. During these sessions, you can ask questions and gain a deeper understanding of how the software works. You'll also get tips on integrating tools into your existing technology stack.
In addition, Expedience provides ongoing training and support. Users are offered various training and support methods, including User Group webinars, an online ticketing system, 24/7 phone support, and other online resources available at all times.
Expedience Software's Implementation Services will help you get the most out of your RFP software. Our team of experts will guide you through the planning, implementation, and training phases for a successful implementation.
You'll be ready to hit the ground running with RFP software training and help your company win more business. We're here to help you succeed, so if you have any questions about how we can assist with your training needs or software use, please let us know!