PDQs, 'Proposals Done Quickly,'  are Automated Templates designed to be run exclusively by Expedience Ribbons. PDQs support automated placeholders and integration with Excel, Outlook, and PowerPoint.

You can create a PDQ as a Master Proposal Template to provide a pre-structured proposal shell, including elements such as Custom Styles, Cover Page, Headers, Footers, TOC, Section Breaks, and other standard content.
PDQs Contain Automated Placeholders
Create and store placeholders for proposal specific company name, Outlook linked contact information, selectable dropdowns, and other names and terms that will can be updated throughout a proposal quickly and correctly, by simply typing in the document field or filling in a Placeholder Form.
PDQs Support Custom Workflow Functions
Workflow Functions are designed to support your team's specific needs and processes and will vary depending on the custom PDQs that have been created for you.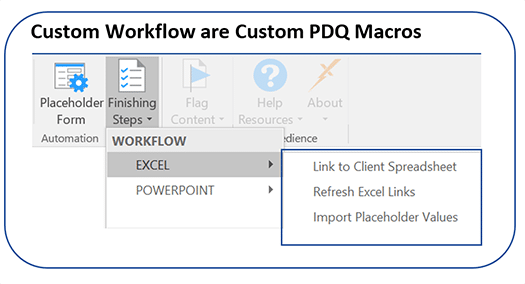 Workflow Functions may require custom programming. Examples of Workflow functions include:
Links to Excel Tables
PowerPoint Integration
Custom Finishing Steps
"The software simply installs a ribbon at the top of Microsoft Word, so you don't need to switch between windows or programs and use is very intuitive for those who already know how to use Word.   Easy to train new users, seamless workflow process thanks to Word integration."

Allyson Walker, Director of Proposals

Legacy