Listed Among 20 of the Most Prominent Players in the Sales Tech Arena for 2019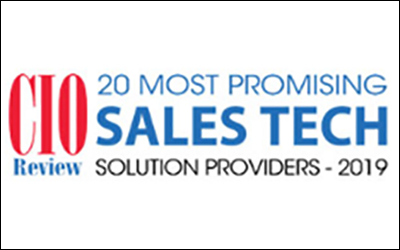 MANCHESTER, N.H. – September 30, 2019 –   Expedience Software announced today its selection as one of the 20 Most Promising Sales Tech Solution Providers -2019 by CIOReview Magazine.
Expedience, the only proposal automation software provider to make the list, is featured in the August 2019 issue of CIOReview along with other honorees.
"Through a distinguished panel comprised of CIOs, VCs, industry analysts, and CIOReview's editorial group, we have evaluated and shortlisted 20 organizations that have significantly stood out as some of the most prominent players in the sales tech arena for the year 2019," stated Managing Editor Justin Smith.
Expedience makes proposal creation easier leveraging software that more business people know and use every day: Microsoft® Word.
"We are proposal people," says Jason Anderson, VP of Sales, Expedience Software. "With Expedience, the turnaround time per proposal can be reduced by up to 80 percent with minimal time needed to get proposal and sales staff up to speed on the software."
That kind of time savings, documented by users, dramatically reduces the time and resources needed to create winning proposals – freeing up bid and proposal teams to pursue more opportunities and increase their RFP win rates.
Expedience seamlessly integrates with the Microsoft Office suite, so clients can customize content using Word, Excel and PowerPoint for maximum effectiveness. The company works with clients to create a customized template complete with a content library accessible directly from a ribbon within Microsoft Word. They can easily search individual content records by key words and insert them into their response.
In contrast, conventional proposal software systems frequently involve complex, unfamiliar tools hosted outside the Microsoft environment.
"We give our customers full control over their proposal process, so they have less stress and can focus on strategy, innovation and content tailoring within a familiar software environment," Anderson says.
About Expedience Software
Expedience Software, founded by pioneers in proposal automation, harnesses the power of Microsoft® Word to drive better proposal quality while accelerating the speed and effectiveness of proposal teams around the world. Headquartered in Manchester, N.H., with a presence in Dallas, San Diego, Omaha and Atlanta, Expedience serves hundreds of companies in the financial and asset management, healthcare, legal, manufacturing and technology industries.
The company's rapidly growing footprint extends to customers throughout the U.S., Canada, UK, Germany, the Netherlands, Australia and New Zealand. Named one of the 20 Most Promising Sales Tech Solution Providers for 2019 by CIOReview and 50 Innovative Companies to Watch by Silicon Review, Expedience continues to lead the industry with its innovative expansion of the Microsoft Office suite.
Learn more at www.expediencesoftware.com.
About CIOReview 
CIOReview is a leading technology magazine that is at the forefront of guiding enterprises through the continuously varying business environment with information about the solutions and services. The magazine serves as a trustworthy knowledge source as well as a platform for the C-suite executives, industry experts, IT buyers, and other decision-makers to share their valuable insights about new technology trends in the market. For more information, visit cioreview.com.
Contact information:
Anne Wainscott-Sargent, Marketing Communications Director
Email: media@expediencesoftware.com