If you struggle with the process of formatting proposals, you are not alone.  Here are a few of the comments we received in our Styles Survey:
"Your survey taps into all the concerns I have when doing manual Proposal responses.  Nice to see that everyone has the same basic concerns."
"Your survey is effective – it got me thinking about how hard my current process is."
"Most people in my firm don't use/understand styles. It is a losing battle."
Thanks again to everyone who participated in the Survey. Below are the results.
Styles Survey Respondents
Respondents to the survey came from a wide spectrum of industries:
Construction
Education
Engineering
Financial Services
Government Contracting
 Healthcare
Services
Technology
Telecom
More than a third reported that they respond to up to 4 RFPs a month.  Roughly the same respond to up to 10 RFPs.  The rest respond to more, with a few reporting they respond to 20 or greater.    We did not ask about the length of the RFPs or the size of the proposal teams.  But we certainly hope that those in the latter group either have very easy RFPs or lots of help!
Styles Survey Summary
More than two thirds of the respondents reported using Custom Styles.  This finding was a bit contradictory however, since a quarter of the reported 'Custom Style Users' also reported resorting to using direct formatting instead of styles to format the final proposal.  The good news is the rest of the Custom Style Users reported no need to 'fix' the final proposal or had a well defined method that incorporates their Custom Styles.  Clearly, there are a good number of Styles Experts in the proposal writing community.
Most Common Formatting Challenges
Microsoft Word's Auto-Numbering ranked as the biggest formatting challenge, due to problems with numbered questionnaires and numbered lists within content being inadvertently renumbered when content is inserted.  Bulleted lists rank as a common problem as well, followed by inconsistent fonts and paragraph spacing.  Incorrect customer names was the least common problem, but still cited by 15% of the respondents.
Some other challenges respondents mentioned were:
Corrupted custom styles b/c of cut & paste from other documents
Obtaining Content
Other writer's lack of MS word skills
Only one respondent (and Custom Styles Expert) reported having NO formatting problems when inserting content into an RFP. We promptly invited her to join our panel for our next Styles Clinic. We expect to learn a lot from her!  (More details regarding our upcoming Styles Clinic coming soon.)
Preparing Content for Reuse
At Expedience we emphasize the importance of preparing content that you plan to reuse – making it 'copy/paste ready'.  About half of the respondents reported taking some step to ensuring that the formatting would be consistent in their reusable content.  Almost half take some step to address customer information.
Styles Survey Charts
The following charts show the breakdowns of several of our Survey questions: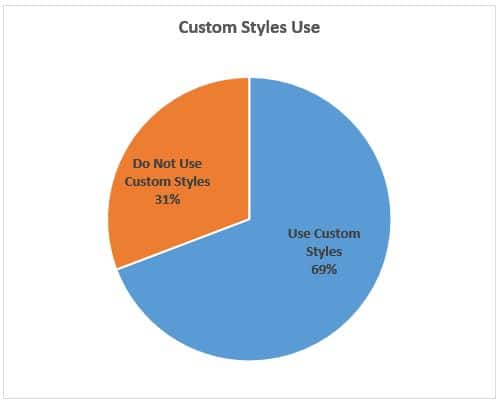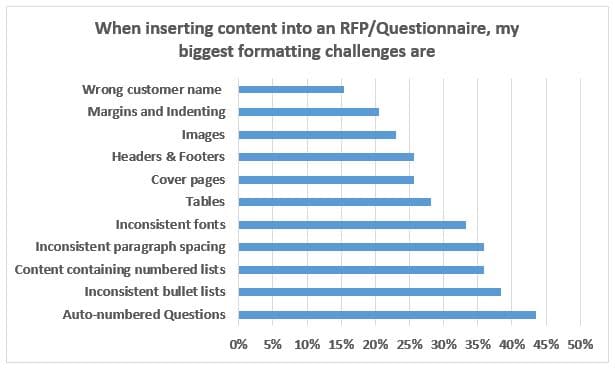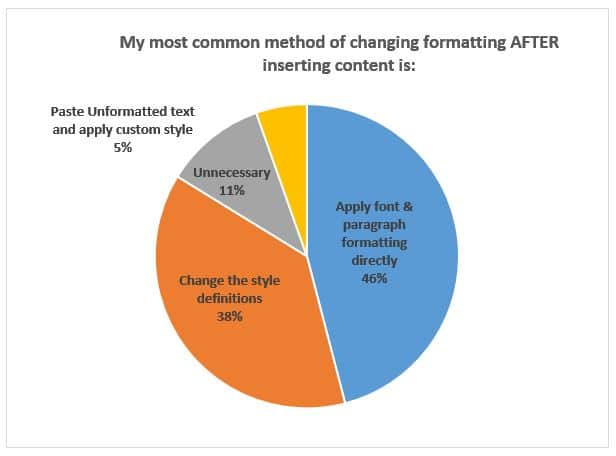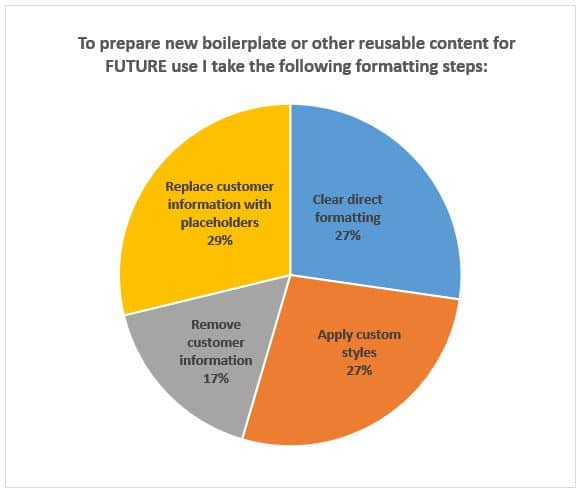 Expedience Custom Styles 101
In case you have missed them, here are a list of Expedience BLOG posts on Custom Styles for Proposal Writers:
The Secret Power of Heading Styles
4 Reasons why Custom Styles Fail