Session Addresses how to Select Reusable Content Inspired by Popular KonMari Method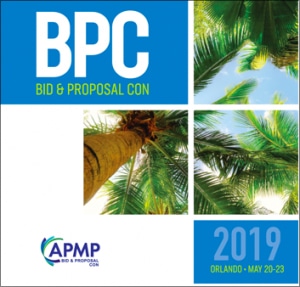 MANCHESTER, N.H. – May 7, 2019 – 
Expedience Software announced today that Diane Loudenback, CF APMP, VP, Client Services, will present at the 2019 Bid & Proposal Con (BPC) at the Hyatt Regency Grand Cypress in Orlando. 
Sponsored by APMP, the Association of Record for Bid, Proposal, Business Development, Capture and Graphics Professionals, BPC is a three-day conference for proposal professionals. During the conference, attendees will connect with colleagues and learn proven strategies and best practices to help capture, write, produce, and manage proposals, and ultimately increase, win rates.
Expedience's presentation, "Does this Paragraph Spark Joy? Selection and Maintenance of Reusable Content," will explore techniques inspired by the popular KonMari method featured in the Netflix program, "Tidying Up with Marie Kondo."
In the program, Marie urges disorganized homeowners drowning in clutter to "discard everything that does not spark joy." Similarly, Expedience's presentation will challenge proposal writers to create content libraries that spark joy by:
Selecting and releasing content for re-use
Structuring the content for easy retrieval
Forming a strategy for getting it all done
To register for the BPC, visit APMP's conference page.
About Expedience Software
Expedience Software, founded by pioneers in proposal automation, harnesses the power of Microsoft® Word to drive better proposal quality while accelerating the speed and effectiveness of proposal teams around the world. Headquartered in Manchester, N.H., with a presence in Dallas, San Diego, Omaha and Atlanta, Expedience serves hundreds of companies in the financial and asset management, healthcare, legal, manufacturing and technology industries.
The company's rapidly growing footprint extends to customers throughout the U.S., Canada, UK, Germany, the Netherlands, Australia and New Zealand. Named one of the 20 Most Promising Sales Tech Solution Providers for 2019 by CIOReview and 50 Innovative Companies to Watch by Silicon Review, Expedience continues to lead the industry with its innovative expansion of the Microsoft Office suite.  Learn more at www.expediencesoftware.com.
Contact information:
Email: media@expediencesoftware.com