MANCHESTER, N.H. – Jan. 30, 2020 –
Expedience Software concluded 2019 receiving two Corporate Excellence awards from
Corporate Vision (CV) Magazine,
including 2019's Leading Proposal Automation Software Company – USA and Most Innovative in Word Automation Tools, 2019.
Expedience is featured in both the November 2019 and January 2020 issues of CV Magazine, an AI Global Media publication.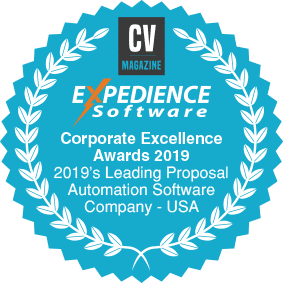 The November story provides a glimpse at Expedience's new software update due for release in early 2020. It examines how customers, including Dutch cloud solution provider, Open Line, and QBT, an Australian global travel agency, have benefited from using Expedience software solutions.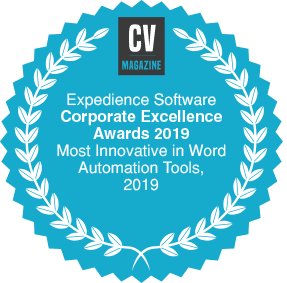 The January feature highlights how Expedience Software is synonymous with Microsoft-delivered proposal excellence. The firm's proposal automation solution – built directly in Microsoft® Word, a tool RFP and proposal software sales and proposal teams already know how to use – provides both ease-of-use and exceptional user adoption across the enterprise.
"For better or worse, a proposal's 'look' often defines how a prospect views your sales team and your company," Melissa Mabon, Expedience's founder and CEO, explains in the January feature. "It's the first piece of proof that you pay attention to detail, understand how to communicate clearly, and that you value customers' time."
Expedience styles management makes formatting a document quick and easy by centralizing core proposal elements such as headers, footers, logos, and tables. Using Styles, writers, and other bid team members can create beautiful, consistent proposal documents that set their organization apart from competitors.
The Corporate Excellence awards, announced by the magazine's in-house team, came after a thorough process of research, analysis, and selection based on the software company's innovation, client reviews, commitment to development, and products.
"We're fiercely passionate about recognizing outstanding achievement, game-changing innovation, and stellar performance.  All of our awards are carefully tailored to provide detailed and in-depth analysis of the very best each market, industry, sector, and region has to offer," says Laura Hunter, awards manager, AI Global Media.
Expedience Software seamlessly integrates with the Microsoft Office suite, so clients can customize content using Word, Excel, and PowerPoint for maximum effectiveness. Customers frequently cite Expedience's simplicity, ease of implementation, as well as the company's strong service and engagement for choosing the Expedience solutions over other proposal automation tools.
About CV Magazine
Created by a highly experienced team of business experts, advisors, and insiders, Corporate Vision, a publication of AI Global Media, provides discerning readers with a wealth of news, features, and comment on the corporate issues of the day. Corporate Vision boasts a global reach, with a circulation that stretches from Europe to the US, Africa to Asia, and includes some of the most prominent CEOs and key investors from the worlds of technology, training and education, marketing, innovation, and design, and products and services. Learn more at aiglobalmedialtd.com/cv-magazine/.
About Expedience Software
Expedience Software, founded by pioneers in proposal automation, harnesses the power of Microsoft® Word to drive better proposal quality while accelerating the speed and effectiveness of proposal teams around the world. Headquartered in Manchester, N.H., with a presence in Dallas, San Diego, Omaha and Atlanta, Expedience serves hundreds of companies in the financial and asset management, healthcare, legal, manufacturing and technology industries.
The company's rapidly growing footprint extends to customers throughout the U.S., Canada, UK, Germany, the Netherlands, Australia and New Zealand. Named one of the 20 Most Promising Sales Tech Solution Providers for 2019 by CIOReview and 50 Innovative Companies to Watch by Silicon Review, Expedience continues to lead the industry with its innovative expansion of the Microsoft Office suite.  Learn more at www.expediencesoftware.com.
Contact information:
Email: media@expediencesoftware.com