Expedience Excel Connect is a Microsoft Word Ribbon that imports an Excel RFP spreadsheet into a Word Table, allowing you to use the complete functionality of Microsoft Word to an Excel RFP.

Excel Connect can inspect the Excel RFP worksheet and data restrictions directly from Word, check on the character counts of your answers, and export answers from Word back to Excel.
Benefits of Excel Connect
Search questions and insert content from your Expedience Content Portfolio Ribbon
Update Placeholders and Replacement Fields using Expedience Ribbon Automation
Activate Word's Track Changes feature to support collaborating with SME's and Reviewers
Excel Connect matches the questions between Word and Excel to ensure that the answer is inserted in the correct location, and checks that the answer meets the data restrictions placed on the cell before inserting.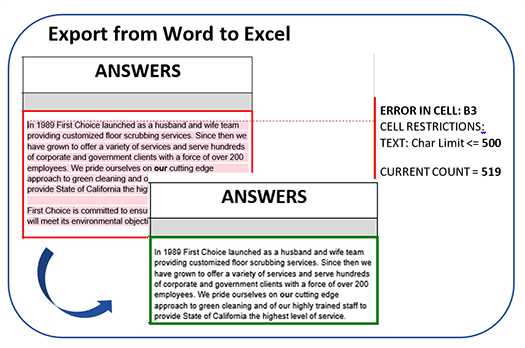 Excel Connect verifies Excel Data Restrictions and displays Data Restrictions Errors in Word Comments.
Excel Connect applies 'Excel-Ready' formatting before exporting answers to Excel, such as applying Excel-compatible bullets and positioning images to appear correctly in Excel.
"We got hit last week with 2 very quick turnaround RFPs, a potential hurricane hitting Jacksonville, I lost power for part of the Friday workday, they closed our headquarters office – but you know what? The bids got done! In the past, we really struggled with making sure we had the latest and greatest answers and frankly, we had some issues! Now – we just check the date and we are ready to go!"

Terri Hatfield, Director of Marketing

Lexicon Relocation