Expedience Content Portfolios are Microsoft Word Ribbons that provide instantaneous access to stored RFP content during the preparation of a proposal. Content Portfolios are loaded with your organization's formatted and approved content, ready for use within new proposals.

The Content Portfolio Ribbon can automatically search, format and insert answers directly into your proposal. The information you need is always available immediately in Word.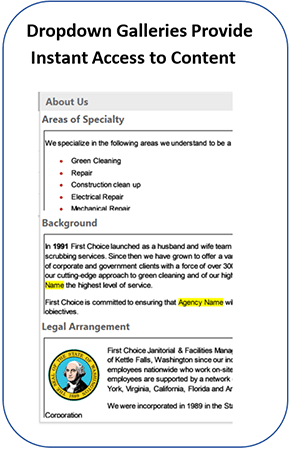 There is no need to leave Word to access content in an external database. This means that Expedience Portfolios are remarkably fast and easy to to use.
All of Word's sophisticated formatting and other tools are always available.
Easily search and select content
Content can be pre-formatted with corporate color themes and styles
Supports all of Word's graphics, tables, embedded objects, and more
Automated Placeholders make customization of the final document fast and reliable
You can have an unlimited number of Content Portfolio Ribbons, each customized with your own unique Gallery labels and icons and organized according to your unique directory structure.
"By creating a content library within the simple familiar interface of Word®, Lexicon can now ensure consistency in both messaging and content while simultaneously improving RFP response turnaround time. Transitioning to the new system and using is as easy as saving the file to your computer and opening the document in Word. Bamm! It's just there and it works… like electricity. I don't care how it works. I'm just happy and amazed when I turn on the light switch there's light and that's exactly how I feel about Expedience!"

Fern Shaw, Marketing Communications

Lexicon Relocation