Content Manager Ribbon

Using a simple Word Ribbon, SME's and Reviewers can review and edit content without requiring a software license. When complete, the administrator can run a batch update back to the Content Portfolio.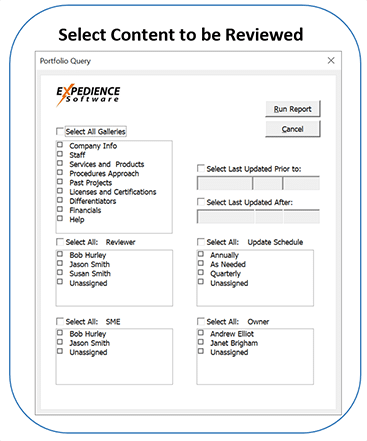 Content managers can quickly make selections to extract specific content for review and updates. They can select by:
Gallery
Last update dates
Subject Matter Expert
Reviewer
Update Schedule
Content Owner
The Portfolio content is then published to a Microsoft Word document that can be shared with SMEs and Reviewers.(SMEs updating content DO NOT require an Expedience license.)
This document can then be edited and formatted using all of Microsoft Word Features, including Track Changes.
The Content Management Report includes its own Expedience Ribbon that can be used by the SMEs and Reviewers.
Content can be flagged indicating whether the content has been changed, reviewed and approved by the content manager and then seamlessly updated back to the Content Portfolio –all within Microsoft Word.
"Coming from one of the market leaders, we have found Expedience has changed our experience of content management. The most impressive thing is the speed and consistency compared to our previous solution."

John Steele, Head of Bid Management

First Data